Browsing through numerous apps on app mart, it would have occurred to you to have an app of your own ; ideas like building a banking app, a game or an app that writes essay for you to name a few.
Creating an app not only requires technical expertise and research but there are a host of policies to follow before you publish your app on Google Play. Along with quality test, assessment of your app with respect to Google policy compliance is essential too. Let us look at some Tips to help you stay on the right side of Google Play policy: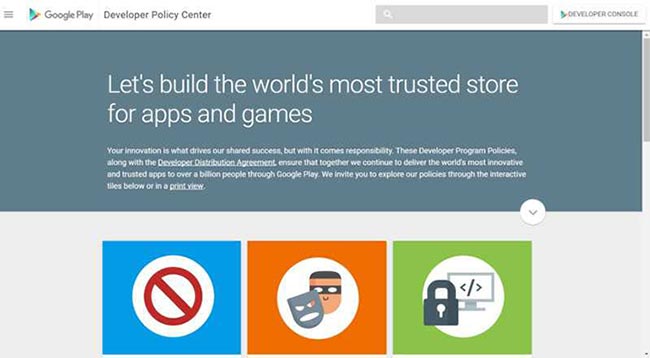 Review the policies: The first and obvious step is to go through the policy details at Google's policy center :https://play.google.com/about/developer-content-policy/
The policies will give you a guideline on restricted topics, IPR, security, enforcement, updates etc.
Describe you app: Make sure you describe your app appropriately. The functionality and description should be straightforward and not misleading. The metadata should comply with Google's metadata policy which you can find at: https://play.google.com/about/storelisting-promotional/metadata/
Rate your app accurately: To receive an accurate rating it is important to provide accurate information while answering the content rating questionnaire.
Use copyright images only: The images, icons and graphics used in the app should be either original or you should have permission from the owner to use them in your app. Further to it, you should notify the review team stating clearly about the images and source. The form can be found at: https://support.google.com/googleplay/android-developer/contact/adv_note
Be responsible about the user data: An app can contain user's sensitive information like bank details, address, phone number, email id etc. You need to ensure that this data is handled securely and include a privacy policy your app and also the listing on the store.
Don't use restricted content on your app: The contents of your app should not contain any content pertaining to sex, violence or drugs. Read through the restricted content policy in case of any issues. Furthermore, if there is any user generated content then it should too comply with Google's user generated content policy. You can find it at: https://play.google.com/about/restricted-content/user-generated-content/
Include only policy compliant ads: As per the ad policies, ads which are disruptive should not appear on the app. They should also not appear as system notifications or after the user closes the app. Additionally, apps with inappropriate contents should not be included in the app. You can check out the policy regarding ads at: https://play.google.com/about/restricted-content/
Update your email contact information: On the developer console ( Link: https://play.google.com/apps/publish/signup/#) make sure you update your email id. This way any violation or change in policies would be intimated accordingly to you by Google..
Contact Google Support in case of doubts: If you have any doubts regarding any policy, then it is always a good idea to contact Google Support at: https://support.google.com/googleplay/android-developer/topic/3453554?ref_topic=2364761
You can report a policy violation, apply for verification or report warning and contents.