Flexibility and customization is what defines Android operating system apart from rest of the smartphone operating system out there in the market. Majority of the smartphone's aesthetic look can be changed within internal settings offered by latest android like changing accent color, background wallpaper, transparency settings and lot more. Changing the default system icon of android is the most appealing changes you see on your phone throughout. There are numerous icon packs available in Google Play Store for different taste-likes. But there are very few good designers who take the extra effort to make vector icons of very high quality that adds up a special beauty to your android smartphone.
Colors Reborn icon pack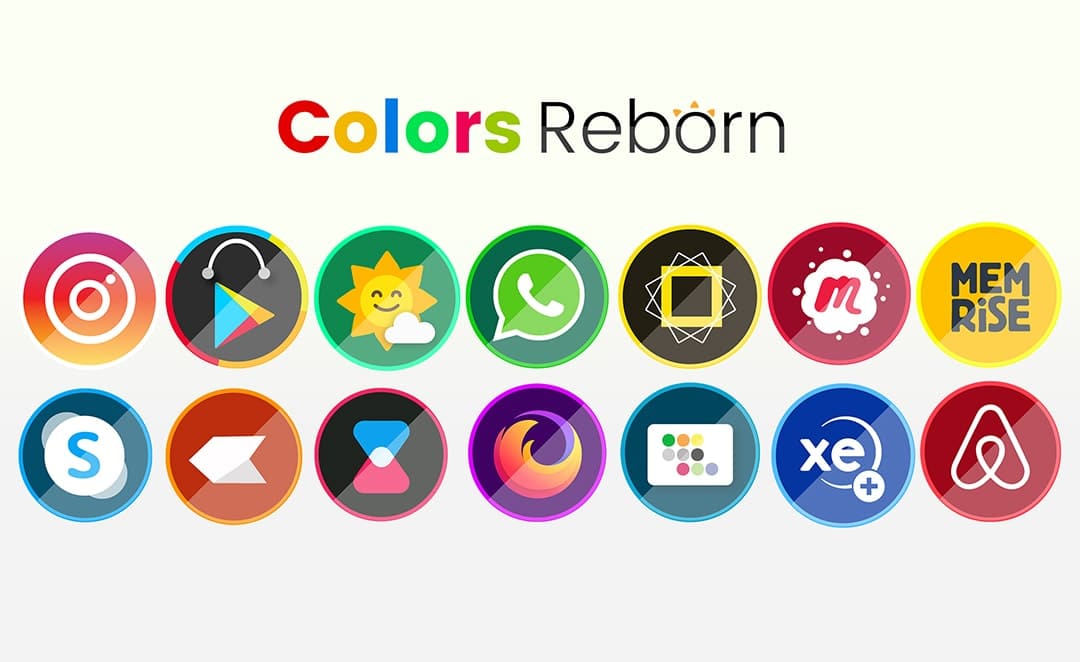 Design
This icon-set is basically concentrated with design perspective of high gloss or shine with a touch of gradient gloss to each icon. You will feel its super gloss shine on immediate glance at the icons. The icon also uses bright colors, contrast and a very detailed manual crafted vector design inscription for each icon. Gloss is a vintage trend which is generating high demand in the recent years after material flat design layouts. This icon pack is designed in such a way that smartphones with super amoled display panels will feel the super glossy high definition colorful icons at first glance itself. You will definitely fall in love with this.
Launcher Support
This icon pack supports majority of all the widely used launchers available in Google Playstore. Although it supports major launchers available, the designer of this icon pack recommends the use of Nova launcher for this icon pack for its vast customization including icon size change feature. We personally feel making the icons to size 140 or more in nova launcher gives a perfect look of this icon pack for bigger screen phones.
Features
This icon pack supports Dynamic Calendar support where icon for Calendar will change automatically according to the date of the month.
Custom Folder icons are provided.
An advanced inclusive dashboard app is provided for easy management of this icon pack.
A custom designed wallpaper pack is assured in next update of this icon pack.
Free Icon request service
The designer of this icon pack (ARX Designs) has provided a separate section inside the dashboard app of this icon pack with an Icon request service. This service is provided completely free of charge unlike other designers who charges for each request for speedy request acceptance. Here, the designer assures of speedy response for each request for icons from every buyer of this icon pack for lifetime.
Currently this icon pack is having more than 1,000 icons in its initial launch. The designer has a target set for more than 3,000 icons in coming days.